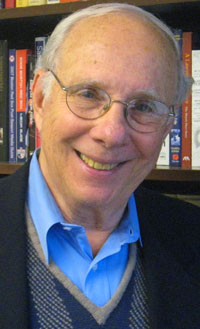 Download high-resolution author photo (JPG)

Photographs of Larry Ruttman are licensed under a Creative Commons Attribution-ShareAlike 3.0 Unported License.
About the Author
Larry Ruttman, author of American Jews and America's Game: Voices of a Growing Legacy in Baseball, is a lifelong resident of Brookline, Massachusetts. Larry has been attending ball games at Fenway Park since the days of Ted Williams and Moe Berg. His first book, Voices of Brookline, was a national finalist for the 2005 American Association of State and Local History Award of Merit. A Korean War veteran and a practicing attorney for over fifty years, Larry is amazed that Providence has granted him the privilege to "live his life backwards" in this late-coming and deeply satisfying labor of love.
Larry is a longtime attorney and author. His award-winning biographical cultural histories are about the amalgam of people living in his famous hometown of Brookline, Massachusetts, and Jewish players and people together with all the players and people with whom they interacted over the years on and off the field in Major League Baseball. That book, American Jews and America's Game, was chosen as the best baseball book in America for 2013 by Sports Collectors Digest. Larry is presently writing a book on his passion for classical music and its musicians, with some pop stars in the mix. He was educated at the University of Massachusetts, Amherst, and Boston College Law School. He served as an officer in the United States Air Force in the Korean War. Larry has been married to Lois Raverby Ruttman for over fifty-four years. He is going strong at eighty-seven.
In a recent post, Larry wrote of his view of life, as follows:
In one way or another, all of my many interests are connected with education, both academic and by lived experience, sorely needed in these fraught times. Our very survival on this planet is connected to education, especially in the now denigrated and demeaned liberal arts, where humanism resides. You might say my mind was exponentially expanded when I majored in English literature at UMass all that time ago, and that I was sent into the world well prepared to grow further. Indeed, my next experiences in the United States Air Force in the Korean War, and then at Boston College Law School, deepened my understanding of my responsibilities as an adult, and my respect for the rule of law. Those years also broadened my appreciation of friendship and association with folks from all sectors of our society. I never thought I would be an author, but looking back and realizing I've lived from then to now honing those beliefs, I guess a hidden destiny was guiding me.
On June 14, 2013, Larry was honored to be elected as a Fellow of the Massachusetts Historical Society, our nation's first historical society, founded in 1791. Larry's papers have been collected by the New England Genealogical Society, and can now be seen on the World Wide Web.
Larry Ruttman
4 Cypress Street, Suite 8
Brookline, MA 02445
Office: 617.232.4464; cell phone: 617.759.8650
Email: lawrut@msn.com; larry.ruttman@gmail.com
Website: www.larryruttman.com