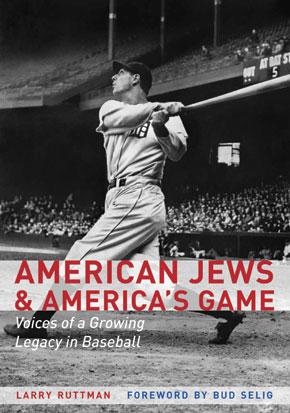 ---
Copyright © 2013 by Lawrence A. Ruttman. All rights reserved. Website by Susan Worst.
American Jews and America's Game
Voices of a Growing
Legacy in Baseball
Larry Ruttman
Foreword by Bud Selig
Introduction by Martin Abramowitz
---
A history of the role of Jewish players and personages and their fellow Americans in baseball, America's pastime
Sports Collectors Digest's #1 Baseball Book in America for 2013
This book is a compilation of stories created from nearly fifty in-depth interviews with players and labor leaders, owners and officials, sportswriters and fans, and even a baseball commissioner. American Jews and America's Game celebrates the relationship between Jewish players and people, together with all the players and people with whom they interacted over the years on and off the field, in Major League Baseball. This biographical cultural history also explores issues such as growing up Jewish and dealing with Jewish identity, assimilation, intermarriage, future viability, religious observance, anti-Semitism, Israel, and America.
"The historian Jacques Barzun was right when he said, 'Whoever wants to know the heart and mind of America had better learn baseball.' Larry Ruttman knows that too, and that is why I chose to write this Foreword to his book American Jews and America's Game. His stories cover almost one hundred years of American history and the place of American Jews in that history.… This is a book that celebrates family—baseball's, yours, and mine."
—from the foreword by Allan H. "Bud" Selig, Commissioner of Major League Baseball