News
Larry Ruttman is collaborating with audio/video producer Jillian Offerman and longtime radio personality Jordan Rich on a multimedia presentation adapted from American Jews and America's Game. The half-hour montage of historical still and moving images, illuminated by Ruttman's narration, is expected to be ready in time for the 2019 baseball season for use in synagogues and temples, Jewish Community Centers, and other organizations in the USA and abroad. The presentation, suitable for all ages, illustrates American Jewish history as told through baseball, beginning in the nineteenth century when Lipman Pike appeared as the first Major League Jewish star and manager just after the Civil War, through the times of Barney Pelty, 'The Yiddish Curver,' Hank Greenberg, Sandy Koufax, and continuing to the present day with Shawn Green and Alex Bregman. Larry Ruttman will be available for FaceTime or Skype Q & A sessions following each showing. For more information, please contact Larry Ruttman at lawrut@msn.com.
The Boston Globe published an excerpt from Larry Ruttman's memoir, My Eighty-Two Year Love Affair with Fenway Park: From Teddy Ballgame to Mookie Betts, on December 24, 2018. Read "It's no surprise here to see the rise of Mookie Betts." (See the item below for a link to the memoir.)
Larry Ruttman published a memoir, My Eighty-Two Year Love Affair with Fenway Park: From Teddy Ballgame to Mookie Betts in May 2018. It will soon also be published in the baseball journal NINE, under the auspices of the University of Nebraska Press, part of the highly esteemed Project MUSE. In a blog post for Medium, Gordon Edes, team historian of the Boston Red Sox, called the memoir "an unmatched, and highly personal, view of what it meant to have a front-row seat on Fenway Park history."
Since its premiere in April 2016 at the American Jewish Historical Society (see below), the musical Jews on First, adapted from American Jews and America's Game, has been successfully presented at the New Surry Theatre in Blue Hill, Maine; Hebrew SeniorLife in Roslindale, Massachusetts; NewBridge on the Charles in Dedham, Massachusetts; Temple Shalom in Newton, Massachusetts; and at a gala party at the home of Boston philanthropist and arts patron, Teddy Cutler, supporter of arts at Emerson College, Boston. "The play will be presented under Emerson's auspices in extended performance in the near future," Larry Ruttman reported in March 2017.
An audience of two hundred cheered the world premiere of Jews on First, the musical based on Larry Ruttman's American Jews and America's Game, on April 11, 2016. The premiere took place at the American Jewish Historical Society in New York City. A Boston Globe article by James Sullivan, "Unlikely Teammates in a Musical about Jewish Ballplayers," marked the event, highlighting the unusual collaboration among Ruttman, writers Larry Jay Tish and Lee Goodwin, and composer Erin Murray Quinlan.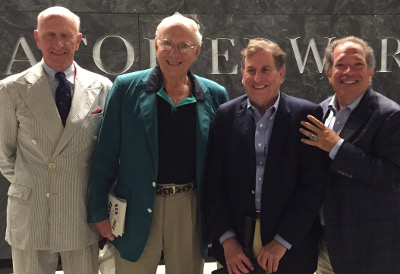 George Mitrovich, founder of the Great Fenway Park Writers Series; Larry Ruttman; Harry Sherr, local sports contract advisor; and Boston Red Sox entertainment and PR guru Charles Steinberg at a Writers Series event on the evening of July 15, 2015, at which Red Sox Poet Laureate, Dick Flavin, colorfully read from his new book, Red Sox Rhymes: Verses and Curses at the recently dedicated Edward M. Kennedy Institute for the United States Senate in Boston.
On June 27, 2015, Larry Ruttman announced that a play tentatively titled Swing! Shmendrik! Swing! is being adapted from American Jews and America's Game for a first reading in the fall of 2015, most likely at the Center for Jewish History in Manhattan, under the auspices of the American Jewish Historical Society. Well-known playwrights Larry Jay Tish (famous for his Black-Jew Dialogues) and Lee Goodwin are writing the play with music by Erin Murray Quinlan, who recently wrote the musical play Hemingway's Wife, presented in a successful run in Portsmouth, New Hampshire. Tish, Goodwin, and Ruttman are producing the play which, at least at first, will be accommodated in small theaters, temples, Limmuds, and Jewish community centers across the United States, and beyond.
Seven national, local, baseball, and Jewish historical institutions have chosen to include material from American Jews and America"s Game in their archives, including the sixty-three hours of interviews recorded in Israel and across America over a more than three year period; transcripts drawn from those interviews; and the close to eighty illustrations included in the book, with all captions and credits. These institutions are:
Library of Congress, Washington, D.C.
Internet Archive, San Francisco, California
Digital Public Library of America, Boston, Massachusetts
Digital Commonwealth, Newton, Massachusetts
National Baseball Hall of Fame and Museum, Cooperstown, New York
American Jewish Historical Society, New York, New York
American Jewish Archives, Cincinnati, Ohio
American Jews and America's Game has been selected for the Library of Congress Talking Book Program. The National Library Service for the Blind and Physically Handicapped (NLS) is producing an audio version in the Library of Congress talking book format, which can be played on the special player loaned by talking book libraries around the country to registered patrons.
On March 13, 2014, American Jews and America's Game was named a finalist in the sports category of the ForeWord Review's 2013 Book of the Year Awards. See all 2013 sports finalists.
Sports Collectors Digest has named American Jews and America's Game the Number One Baseball Book of 2013! Read the full article by Dan Schlossberg or the press release (PDF).
On January 22, 2014, Craig Breslow, one of the athletes featured in American Jews and America's Game, received the Distinguished Service Award from the Brotherhood of Congregation Mishkan Tefila in Chestnut Hill, Massachusetts. "Sox Pitcher Breslow Is Living His Dream," an article in the January 17, 2014 issue of The Jewish Advocate, quoted both Larry Ruttman and American Jews and America's Game.
Larry Ruttman's article on the 2012 World Baseball Classic was published in the Fall 2013 issue of NINE: A Journal of Baseball History and Culture. Read a brief excerpt from "Bud Selig's 'Hope and Faith' in His Last Great Goal Rewarded on Jupiter's Field of Dreams" or find out more at Project MUSE.
On November 3, 2013, Larry Ruttman's 50th wedding anniversary, he and his wife, Lois, were made even happier when their friend and Cape Cod neighbor, Brad Ausmus, was named the new manager of the Detroit Tigers. CBS Detroit, the Detroit Free Press, and the Jewish Daily Forward all excerpted sections of Larry's story on Brad, an eighteen year star MLB player, from American Jews and America's Game.
On October 24, 2013, Larry Ruttman presented the 'first copy' of American Jews and America's Game to the commissioner of Major League Baseball, Allan H. "Bud" Selig, at Fenway Park just prior to the second game of the 2013 World Series between the Boston Red Sox and the St. Louis Cardinals. Selig wrote the Foreword for the book.
On October 8, 2013, Audible will release an unabridged audio edition of American Jews and America's Game. Actor and frequent audiobook performer Richard M. Davidson is the narrator. "There aren't many 24-hour audios of 550-page nonfiction books made with star narrators!" Larry Ruttman said with gratitude. Order the audio edition from Amazon.com.
August 6, 2013: Vineyard Haven maven Alan Dershowitz and his perennial sidekick, author Larry Ruttman, did their Red Barber and Mel Allen annual redux Tuesday night, calling the telecast of the crucial game at the Shark's Tank which broke the first place tie existing between the slashing Martha's Vineyard Sharks and the Nashua Silver Knights, who succumbed 3-1. Alan and Larry colorfully describe the baring of teeth and blood in the water on MV PBS, archived at www.mvsharks.com. They and a few guests talked about issues in the greater world too, as well as Alan's autobiography coming out in October, Taking the Stand, My Life in the Law, and Larry's popular lately published oral history, American Jews and America's Game: Voices of a Growing Legacy in Baseball. Alan graciously presented Larry with an inscribed advance copy of his book. PLAY BALL!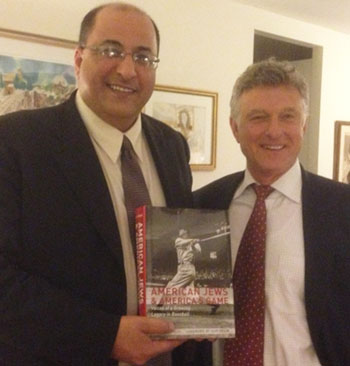 On July 1, 2013, Ira Berkow, (right) Pulitzer Prize-winning author and former New York Times columnist, whose story appears in American Jews and America's Game, presented a copy of American Jews and America's Game to Ido Aharoni (left), Consul-General in New York of the Israeli Embassy to the United States in New York City. The book, held by the consul in the photograph at right, was a gift from the author to the State of Israel. Photo by Marty Appel.
On June 14, 2013, Larry Ruttman was elected as a Fellow of the Massachusetts Historical Society, joining such past fellows as John Adams, Ralph Waldo Emerson, and John F. Kennedy. "I am honored and humbled to be included among so many great historians, scholars, and leaders who are and have been Fellows of The Massachusetts Historical Society since 1791. I am proud to have told a little of the story of the Jews in America. History and biography are so important in giving us perspective on our place in the cosmos and the human condition here on earth. I look forward to participating in the important work of the society," Ruttman said. Larry was happy to be elected at the same time as his mentor, Professor Jonathan Sarna of Brandeis University, the prime historian today of American Judaism, and to be sponsored for election by Fellow Daniel Coquillette, eminent historian, professor at Harvard University, and former dean of Boston College Law School.
American Jews and America's Game was published in April 2013 by the University of Nebraska Press. Read the press release (PDF).